A fire pit is the essential centerpiece to any campsite. But when you're traveling to different campgrounds, parks, or festivals, it's onerous to lug around a heavy metal fire pit. Plus, some look good enough to live in your backyard full-time when you're not traveling. Whether you need to cook food outdoors or just want a decorative addition to your patio that's easy to move or pack up, these portable models are your best friends when it comes to building a contained fire.
Check out quick info below on the five best portable fire pits from our testing, then scroll deeper for buying info and full reviews of these models plus other top-performing options.
Best Overall
BioLite FirePit+
Build a fire, grill some burgers, and charge your phone.
Best Value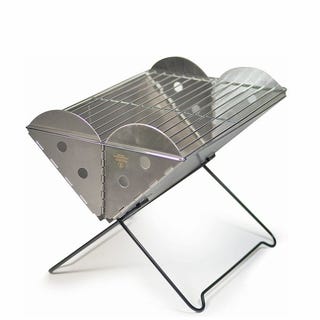 UCO Flatpack
Compact for an apartment dweller to store, with room enough for a small fire.
EASIEST TO STORE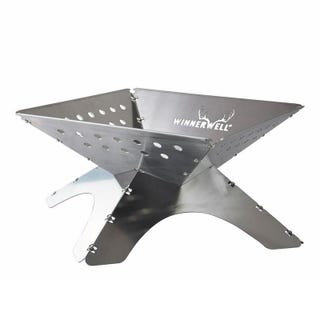 Winnerwell Flatfold
Simple, elegant design deploys and breaks down in seconds.
Best for Backpacking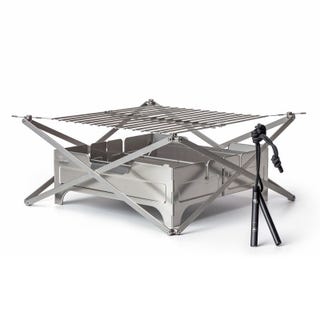 Wolf and Grizzly Campfire Trio
Even with the accessories, it folds small enough to fit in a pack.
BEST LOOKING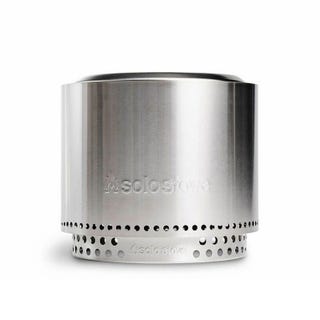 Solo Stove Bonfire + Stand
Smokeless technology that really works.
Types of Fire Pits to Consider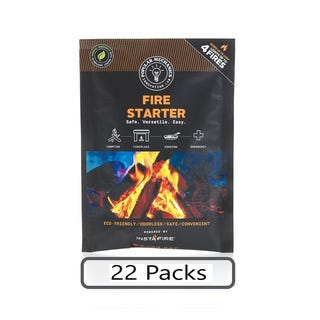 The two main fuel sources for fire pits are propane and wood. Gas-powered pits are easy to connect to a propane tank via a pre-attached hose and turn on and off, so there's no need to wait for your fire to burn down or find water to douse it out when it's time for bed. A standard propane tank may weigh 20 pounds, though you won't have to carry along bundles of firewood. Propane pits also allow you to make a fire during burn bans in certain areas (but you should still check for fire regulations where you plan to use one). These models also generally emit less heat than a large wood-burning fire pit.
Many companies promise that both their wood and propane pits reduce smoke, so you won't have to constantly move your chair when the breeze changes direction. And if you're not the type who enjoys smelling like a campfire, that means less of the smoky scent that usually clings to your clothing and hair for days.
Portable fire pits vary quite drastically in design as well. Some look like the traditional permanent kind but are lightweight, while others have folding legs and carrying bags. Options like the UCO Flatpack fold flat for hikers who need to keep their flames off the ground. In addition, some pits have more practical features for cooking food and grilling, such as included grates. The BioLite even allows for charcoal, if that's your preferred method of grilling. So keep in mind how you plan to use your fire pit when considering the options below.
How We Tested

The first thing we took stock of with these fire pits was how easy they are to assemble and set up. Then we lit fires in them using logs of hickory and oak, gauging access to the center of each for setting and maintaining the fires. Once the flames were going, we walked toward each pit until we could feel noticeable heat, then circled them to see how even the distribution was and how much it was affected by wind. We also looked at them through a Flir infrared camera to see if there were any concerning hot spots on the fire pits' bodies. Lastly, we let the fires burn down to ash so we could determine how easy clean up was after the blaze. Throughout testing, we took into account things like whether or not the pits were simple to carry and their weight and dimensions.
―BEST OVERALL―
BioLite FirePit+

Dimensions: 27 in. long, 13 in. wide, 15.8 in. tall | Weight: 19.8 lb | Fuel: Wood, charcoal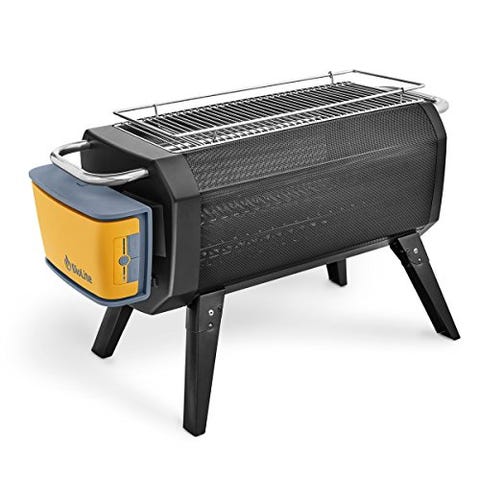 FirePit+ Portable Fite Pit
We tested BioLite's original FirePit, and our review below is based off that evaluation. Though that model is no longer on sale, the upgraded FirePit+ at the link above looks to perform much the same, just with a larger battery and an enamel coating on the body for durability.
You'd have trouble finding a more feature-rich portable fire pit than BioLite's. That battery pack you see on the end powers a four-speed fan, which pumps air through 51 jets, helping quicken the burn and cut down on smoke. (And it pops easily off the fire pit's body, so don't worry about lugging the whole thing into your house and plopping it down near an outlet when it needs a boost.) Plus, it has a USB output so you can charge your devices off of it—during our testing, it provided a full dose of juice to our dying infrared camera in a little over an hour.
Just be judicious when using the fan. We found that, when adding medium-size logs to the fire, it was better to leave it on one of the lower settings, otherwise the blasting air would whip the flame around and make it more difficult for the new log to catch. The fan also emits a constant high whine—a minor annoyance but one worth mentioning. All the perforations in the FirePit's body had us concerned the flame would be susceptible to blowing out in the wind. But even on a blustery day, the fire didn't suffer. After the flames wind down, the inner removable grate and the ash drain help with cleanup.
Watch the Biolite FirePit in action:
―BEST VALUE―
UCO Flatpack
Dimensions: 13.5 in. long, 11 in. tall (when packed) | Weight: 3.2 lb | Fuel: Wood, charcoal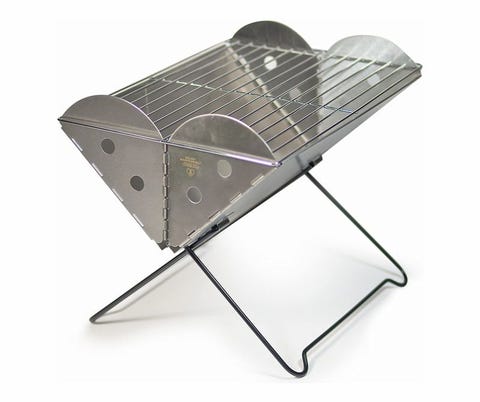 Flatpack Portable Fire Pit
In its handsome canvas carrying case, the Flatpack could pass for a laptop. It's that slim when packed down. Though it was by far the smallest of the full fire pits we tested, the Flatpack is sturdy with the legs deployed. Keep in mind that, because the stainless-steel body is so thin, it can support only ten pounds of wood or charcoal. This also means that the fire demands frequent attention if you light it with small wood since you can't heap large logs on it. And the load sits fairly high off the ground for the pit's size, so best to keep it on flat, even surfaces.
The included grill grate makes a nice platform for cooking up hot dogs or burgers at the camp site (or a local park that allows it if you're an urban apartment dweller with limited storage). We found during testing that the Flatpack produced a surprising amount of smoke in spite of the small fire. But it does have one trait that none of the other fire pits here can claim: It's dishwasher safe.
―EASIEST TO STORE―
Winnerwell Large Flatfold Fire Pit
Dimensions: 16.5 in. wide, 16.5 in. long, 8.9 in. tall | Weight: 9.1 lb | Fuel: Wood, charcoal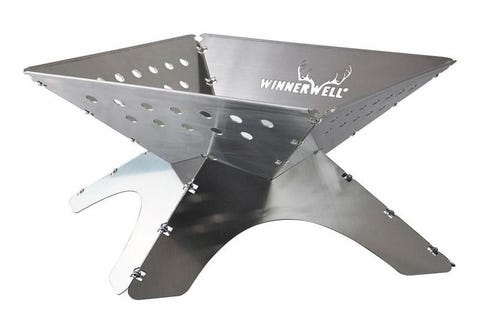 Flatfold Portable Fire Pit
We were captivated when we first saw the minimalist design of Winnerwell's Flatfold, and it didn't disappoint when we got hands on it. With no locks or latches, the two-piece fire pit seemed unstable, or even rickety, at first. But flipping the two parts open and nesting the bowl in the stand took under a minute—and they fit together very securely. We also tested an accessory table that raises the fire pit off the ground, protecting whatever surface it's sitting on—that means no dead spots in the grass or burnt spots on the deck. The accessory table folds flat as well, and both pieces of the fire pit nest nicely in the top of it, making for convenient storage and transport.
We used small oak logs to burn a modest-size fire in the Flatfold, with foot-long logs fitting nicely within its 16.5 x 16.5-inch rim. (When we tried to use regular firewood, we had to cut it down to fit.) Sitting around the fire pit, we felt heat radiated best with wood loaded just above the rim and flames reaching up to about two feet. While it's available in sizes from small to extra-large, the version we tested was size large, which is good for providing heat for groups of four or five people.
Like with some of the other portable fire pits, there's an accessory grate that turns the Flatfold into a grill. Also, like others, we noted that we only needed a small amount of hot coals in the bottom of the fire pit to provide enough heat to cook over. So the fire either needed to burn way down or we needed to start with just some charcoal in the bottom. The simplicity, versatility, and ease of storage make the Winnerwell Flatfold a great option for car or RV camping as well as use in the backyard.
―BEST FOR BACKPACKING―
Wolf and Grizzly Campfire Trio
Dimensions: 11 in. long, 11.25 in. wide, 3.7 in. tall | Weight: 4.4 lb | Fuel: Wood, charcoal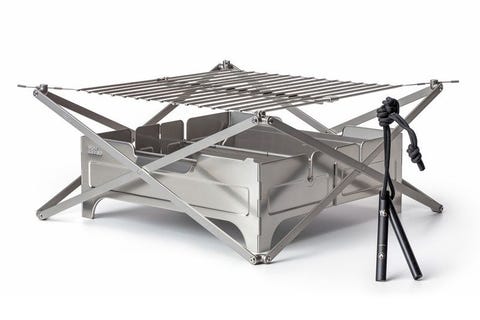 Campfire Trio Portable Fire Pit
It might be a bit limiting, referring to the Campfire Trio as a fire pit. It includes three parts, naturally: a Fire Safe, a Grill, and a Fire Set. What's more, the Campfire Trio breaks down into two small cases, capable of fitting in a backpack—conducive to hikes into remote locations.
Fire Safe really says it all; it's a safe way to contain a fire when camping. We set up the Fire Safe itself in under two minutes. It's incredibly simple. The grill took only slightly longer. The Fire Set is for getting a blaze going without matches, and it includes two metal bars that, when rubbed together, produce sparks. We were impressed with both the quantity of sparks and how long they lingered. With a little practice, and the right materials, it was relatively easy to get a fire started. Though the Fire Safe footprint is only 11 square inches, limiting how big of a fire we could create and therefore how much heat we could get off it. Huddling up close, we could warm our hands, while sitting back we could warm our feet.
Once we let the fire burn down to embers, we put the grill over the Fire Safe and cooked some burgers. We were able to easily adjust the grill height to get the food in the right heat zone over the coals, producing delicious results. While the Campfire Trio doesn't make a great fire pit, it's a fine piece of camping gear that will pack easily, safely contain a fire, and work as a grill.
―BEST LOOKING―
Solo Stove Bonfire + Stand

Dimensions: 19.5 in. diameter, 14 in. tall | Weight: 20 lb | Fuel: Wood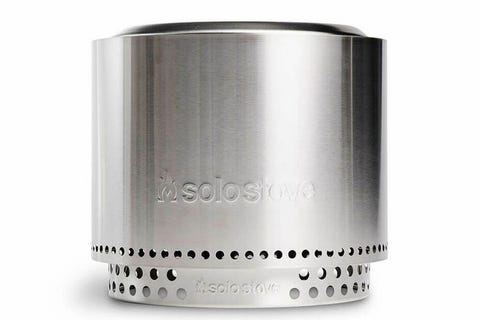 Bonfire + Stand Portable Fire Pit
Solo Stove's Bonfire shares the sleek design of the Yukon we previously tested, except it's about 30 percent smaller. When we unboxed the Bonfire, it became immediately clear how much more portable that small size is. This test model included a carrying case with a drawstring closure at the top, which we loved. The case is essentially a big bag with handles, so aside from making the fire pit easier to transport, it also ensured we didn't risk a trail of ash falling in our car, house, or anywhere we stored it.
We've come to appreciate Solo Stove's smokeless fire pit technology. It's not marketing hyperbole, and it works. The fire pit is a double-walled, stainless-steel cylinder, with holes ringing the base on the outside and around the top on the inside. As heat from the fire rises, it pulls air through the inside holes, drawing in air from the bottom outside holes, which helps cut down on smoke and speed up the burn. During testing, the Bonfire positively tore through logs. With the constant air supply flowing to the fire, it burned hot and fast, leaving very little ash clean up afterward.
We could clearly see the advantage of this type of burn: no smoke, true to Solo's claim. However, it's fair to note that we went through logs relatively quicker than we would with an open fire. And, while there wasn't smoke, we did have some occasional eye irritation when the breeze shifted the direction of the heat.
Speaking of the heat, the Bonfire projects it—a lot of it—in an even circle, but mostly from the rim and up. If we had the fire roaring, with flames extending two feet out the top, the heat radiated more evenly but didn't really reach our feet on a cool day. The rest of our bodies were perfectly toasty, though. About that heat: It can be intense, so we used welding gloves while tending the fire and adding logs. If you want a smokeless fire pit that lives up to the hype, looks great, and fits in at home or on an occasional weekend of car camping, then the Bonfire is a solid option.
While grilling wasn't a requirement for this test, we did try out the Bonfire Grill Accessory Bundle with some burgers and hot dogs. This kit consists of a cast-iron grate and an elevated stand that sits in the top rim of the Bonfire. The Bonfire produces so much heat that we had to let it burn down to just coals in the very bottom in order cook on it. Once we had the heat figured out, the Grill Accessory Bundle turned the stove into a very competent grill.
More: 10 Smokeless Fire Pits, from Portable to Patio Staple
―BEST FOR BIG FIRES―
Fireside Outdoor Pop-Up

Dimensions: 24 in. long, 24 in. wide, 15 in. tall | Weight: 7.5 lb | Fuel: Wood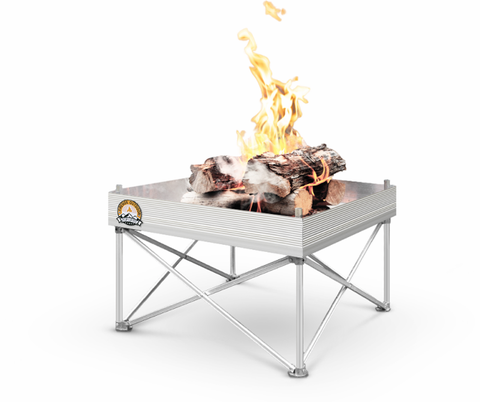 When packed down, the Pop-Up is about the size of a folded camp chair. But bust it out and you've got a platform for creating a nice big blaze. The four-square-foot, stainless-steel mesh surface can hold up to 125 pounds of logs (according to Fireside Outdoor), and the 3.5-inch-high walls struck a nice balance of protecting the fire from the wind while not stifling the wide field of heat. Plus, that mesh promoted airflow, cutting down on smoke. Given that the top is completely open, too, tending to the fire and adding more logs was simple.
Not so simple: setting the thing up. The legs folded out easily enough, but then we had to rig up the heat shield on the bottom with the Velcro straps, drop the four walls individually onto the stanchions, then slide the mesh on. That's a lot of parts to keep track of, but the Pop-Up's great if you want to post up by a roaring campfire for a few hours (or grill up a mess of food on the optional tri-fold grate).
―BEST MIX OF SIZE AND EASE OF SETUP―
Primus Kamoto OpenFire Large

Dimensions: 18.5 in. long, 25.6 in. tall | Weight: 15.4 lb | Fuel: Wood, charcoal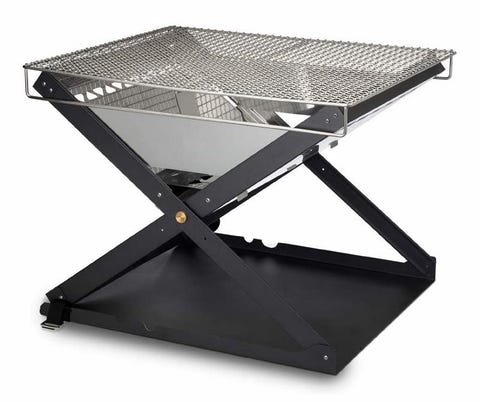 Kamoto OpenFire Large Portable Fire Pit
Leave it to the Swedes to design a fire pit with a modern, minimalist look. With that comes easy setup, too; all we had to do was lift the ends up so that they formed the stable X shape, set the free leg side in the grooves, drop in the stainless-steel platform and side wind shields, and get to work lighting the fire. Speaking of the wind shields, they provided good protection from gusts but were thin enough that they didn't impede the spread of the heat. The large ash tray makes for simple cleanup, but the wide base is best set on a flat patch of ground free of debris, lest it wobble, potentially kicking up sparks.
Our biggest hang-up, though, was how sharp the edges of the stainless steel were: As we were prepping the Kamoto, we sliced a finger open on one of the triangular cutouts. So be careful during setup. Flesh wounds aside, this fire pit won us over for the aforementioned ease of use and the ample grill space when you throw on the included grate.
—BEST MIDSIZE—
Fireside Outdoor Trailblazer
Dimensions: 12 in. long, 11 in. tall | Weight: 3.2 lb | Fuel: Wood, charcoal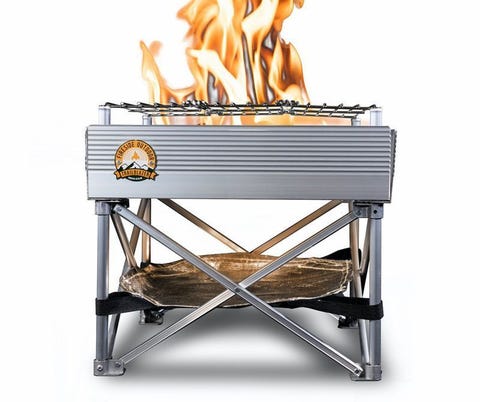 Trailblazer Portable Fire Pit
Like its larger sibling, the Pop-Up above, the Trailblazer has tall walls, which did a good job of protecting the flame from the wind on a gusty day once we got the fire going. Set up is the same as the larger version: a bit more involved than some of the other pits on this list, and with the somewhat tricky task of rigging up the heat shield on the frame. Still, that heat shield did its job. When we placed a hand below it, we couldn't feel any heat from the fire (though Fireside warns that you need to keep the shield at least four inches beneath the flame so that it doesn't delaminate). We were concerned with the ease of feeding the fire with the tri-fold grate over the top, but it rests high enough that we could easily slot smaller sticks through the gap to keep the flame going. And there's little chance you'll overload the 45-pound weight limit given the available space for a fire.