Over the past year, a number of family-friendly three-row SUVs have picked up major revisions, reinvigorating a hotly contested segment and offering more versatility and creature comfort than ever before. The Honda Pilot, Mazda CX-90, Nissan Pathfinder, and Toyota Grand Highlander all bring something important to the table, so let's break these SUVs down across a few categories and see how they stack up against one another.
A bit of housekeeping before we start: We'll skip over off-road-oriented models for this comparison, which means we won't be looking at the Honda Pilot TrailSport, or the Nissan Pathfinder Rock Creek, as there are no Mazda or Toyota analogues (yet) to compare them to. Also, the Toyota Grand Highlander is the most recent reveal of the group and thus features the fewest raw numbers.
Exterior
Beauty is in the eye of the beholder, and we're not here to judge your aesthetic, so we'll focus on the facts. The Grand Highlander is the longest SUV of the group, coming in at 201.4 inches, just ahead of the CX-90 at 200.8, and the Pathfinder plays caboose at 197.7. The Mazda is the wheelbase champ at 122.8 inches, about six inches longer than the Grand Highlander. The Pilot is the tallest of the four at 71.0 inches, while the Mazda keeps it compact at 68.2. Ground-clearance fanatics will dig the CX-90's 8.0-inch figure, besting the Honda and Nissan by about an inch.
All the Details and Specs
Interior
Sadly, the Mazda CX-90's girthy dimensions do not translate to an abundance of cargo space. In fact, the Mazda is the least capacious of this collective, offering just 14.9 cubic feet behind the third row, 40.0 behind the second, and 74.2 with the second and third rows folded down. Its 30.4 inches of third-row legroom is more than the Pathfinder can muster, but the Pilot offers more. The Grand Highlander is the undisputed legroom and cargo king, though, with a whopping 33.5 inches of third-row legroom, 20.6 cubic feet of storage behind the third row and 97.5 cubes with two rows folded. Seven- and eight-passenger configurations are available on all four models.
Engine and Transmission
Honda and Nissan keep it simple here, with the Pilot and Pathfinder offering just a single engine. Both utilize a 3.5-liter V6, although Honda's is marginally more powerful, making 285 horsepower against the Nissan's 284. The Pilot wields a standard 10-speed automatic transmission, and the Pathfinder makes do with a nine-speed.
2024 Mazda CX-90.
Jessica Lynn Walker|Car and Driver
Things are a little more complex in the CX-90. Mazda's lineup offers three powertrain flavors. A 3.3-liter inline-six produces 280 horsepower and 332 pound-feet in Turbo guise, while Turbo S models bump those numbers up to 340 and 369, respectively. There's also a plug-in hybrid getup that mates a 2.4-liter inline-four to a pair of electric motors to produce 323 horsepower and 369 pound-feet. All three tiers bolt to an eight-speed automatic.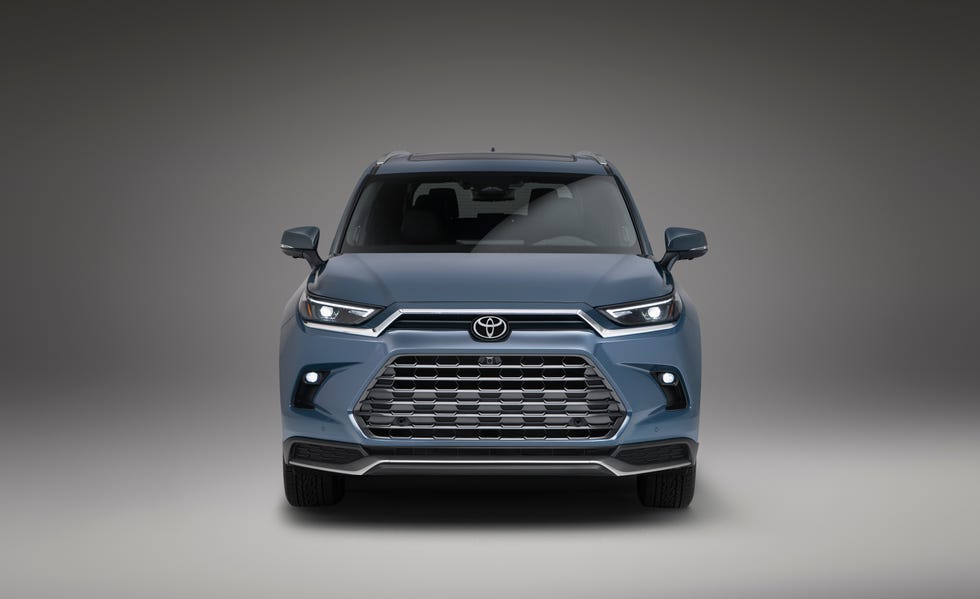 2024 Toyota Grand Highlander.
Car and Driver
Toyota hasn't divulged all the Grand Highlander's powertrain specs yet, but there's still plenty to talk about. The gas-only option pairs a 265-hp turbocharged 2.4-liter inline-four to an eight-speed automatic. The 243-hp hybrid uses a 2.5-liter inline-four and a continuously variable automatic transmission. At the top of the lineup is the Hybrid Max, which we believe is the same setup as the Crown's Hybrid Max trim, pairing a turbocharged 2.4-liter inline-4 with electric motors to produce 362 horsepower and 400 pound-feet, which is sent through a six-speed automatic.
Honda offers front- and all-wheel drive on all except the top two trims, which are exclusively AWD. Nissan offers FWD and AWD across its entire Pathfinder lineup. FWD and AWD are offered on the Grand Highlander's gas and hybrid offerings, while the Hybrid Max is AWD by default. AWD is standard on every CX-90.
All the Details and Specs, Cont'd
MPG and Towing
Based on all currently available information, the Honda Pilot appears to be the least fuel-efficient SUV of this group, achieving an EPA-estimated 19 mpg city, 27 mpg highway, and 22 mpg combined with front-wheel drive (AWD models lose 2 mpg highway and 1 mpg combined). In its thriftiest form, the Pathfinder sneaks ahead of the Honda with 21 mpg city, 27 mpg highway, and 23 mpg combined. Both 3.3-liter Mazdas come out on top at an EPA-estimated 23 or 24 mpg city, 28 mpg highway, and 25 mpg combined. CX-90 PHEV variants have yet to receive official EPA figures. The only Grand Highlander figure we have is Toyota's own 34-mpg combined estimate for the hybrid; gas and Hybrid Max models have a big, fat "TBA" next to 'em.
For maximum tow rating, the Pathfinder stands ahead of the crowd at 6000 pounds. The other three SUVs top out at 5000.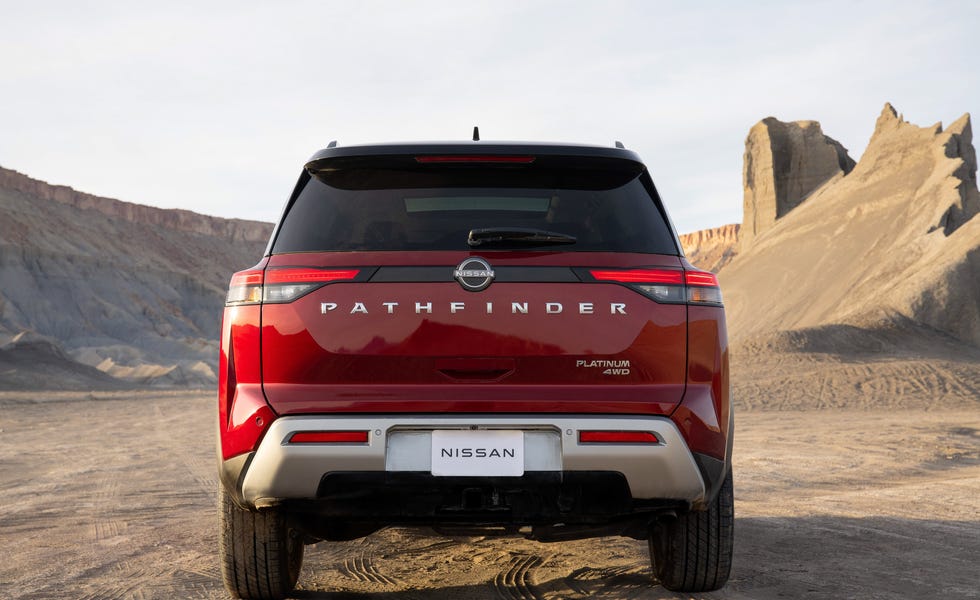 2022 Nissan Pathfinder.
Nissan
Standard Features

Throw enough money at most SUVs, and you'll end up with nearly the same equipment, whether it's ventilated second-row seats, third-row USB ports, panoramic sunroofs, or auto-dimming mirrors. Base-trim standard equipment is arguably more important, because it shows what the skinflint buyers can get their hands on. And with new-car prices on the rise, it's important for budget-conscious buyers to not feel like they're only allowed to drive rolling penalty boxes.
The Grand Highlander has the highest level of standard equipment of this group, which shouldn't come as a surprise, because its base model is technically a mid-level trim in the Toyotaverse. Standard equipment includes a 12.3-inch infotainment display with wireless Apple CarPlay and Android Auto, seven USB ports, heated front seats, blind-spot monitoring, and a suite of active and passive safety systems that includes full-speed adaptive cruise control, traffic-sign recognition, and a trick active distance control that can gently brake the car as needed.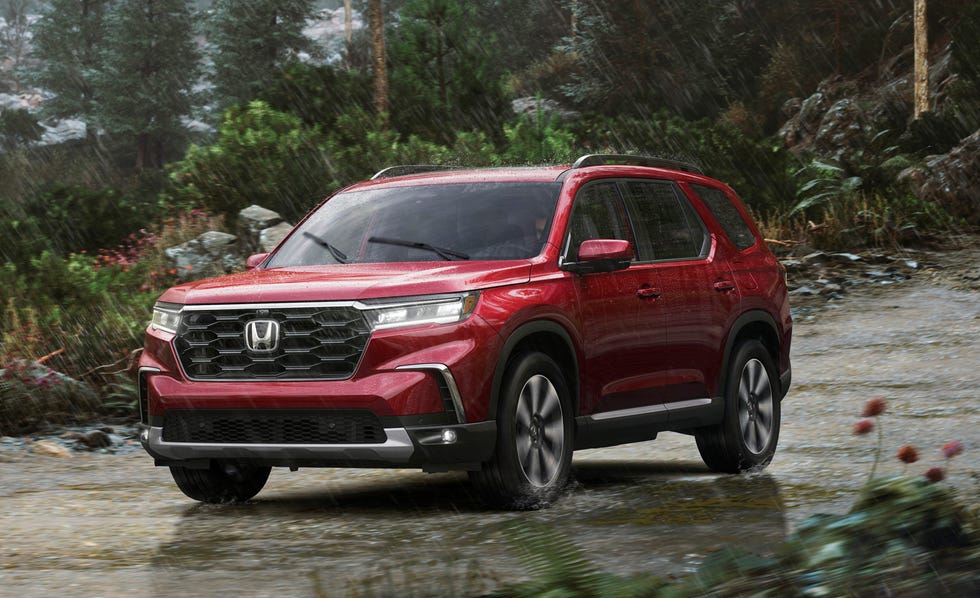 The CX-90 has the second largest standard display at 10.3 inches, with the Pathfinder behind it at 8.0 inches; the Pilot plays caboose with its paltry 7.0-incher. All three vehicles include four USB ports, with one Type-C port on the Pilot and two on the Pathfinder. This triumvirate includes heated seats, but they aren't standard. The CX-90 and Pathfinder have standard blind-spot monitoring, and the Pathfinder kicks it up an extra notch with standard rear parking sensors. While all the cars on this list carry suites of driver aids, the Pathfinder is the only model that doesn't offer adaptive cruise control on its base trim.
Price
When it comes to base price, the $36,295 Pathfinder is the value king; the Pilot's base LX model is $1000 more expensive, and the CX-90 starts at a hair over $40,000. We expect the Grand Highlander to start around $43,000, since its base XLE trim is a mid-tier getup on other Toyota SUVs. The Pathfinder tops out at $51,165, while the Pilot reaches its ceiling at $53,375, and we expect a top-trim Grand Highlander to land somewhere around $56,000. Opting for the most expensive CX-90 may cause some wallet shock, with a 3.3 Turbo S Premium Plus maxing out at an eye-watering $61,325.