The classic Land Rover Defender came in various sizes and shapes, so it's in keeping with tradition that the new one should too. Upon its debut, the reborn Defender appeared both as the mainstay four-door 110 and the two-door 90—which is lesser in length but greater in charm. The Defender 110 does offer the option of a supplemental rear bench wedged into the cargo area, though it's all but useless. To create a genuine three-row seating package required a third body style, and that's what we now have with the taffy-stretched Defender 130.
We've praised the current Defender's design, which manages the not-so-easy feat of looking wholly modern and yet unmistakably kin to the off-road icon that first appeared in the 1940s. That sentiment applies both to the Defender 90 and the 110, but the 130's extra length—it is 13.3 inches longer than the 110, 30.5 inches longer than the 90—throws off its proportions. (For some of us, it calls to mind the Jeep Grand Wagoneer L.) With the long rear overhang, one can almost imagine that opening the side-hinged cargo door and plopping a particularly heavy item onto the rear load floor could result in the Land Rover popping a wheelie.
Marc Urbano|Car and Driver
Of course, that would never happen, in part because the Defender itself is so heavy. At 5931 pounds, our Defender 130 is 158 pounds heavier than the last Defender 110 to cross our scales.
The 130's engine offerings are trimmed from the bottom and the top, which means there's no turbo four and no V-8. Motivating this Land Rover's mass, therefore, is one of two 3.0-liter six-cylinder engines: the 296-hp P300 and the 395-hp P400. In most cases, it'll be the P400, which is in all but the lowest trim level.
Land Rover Defender Tested!
The turbo-boosted inline-six also features an electrically driven supercharger, which effectively combats turbo lag. There's also a 48-volt motor-generator; despite its presence, restarts from the auto stop-start system could be snappier. The long-travel accelerator seems designed for careful modulation in delicate off-pavement situations, with a demure tip-in. Push past that, however, and this boosted six proves smooth and muscular. Working in concert with a superb ZF-built eight-speed automatic, it shrugs off the 130's avoirdupois and proves more than up to the task of propelling our well-loaded example. Whereas a 2020 Defender 110 SE (with the same engine) needs 6.3 seconds to hit 60 and 14.8 seconds to power through the quarter-mile, this 130 charges to 60 mph in 6.2 clicks and shaves 0.2 seconds off the quarter-mile time. It's also rated to tow 8200 pounds.
Predictably, EPA estimates are grim at 17 mpg city and 21 mpg highway (with either engine), and in our 75-mph fuel-economy test, the XL Landie quaffed a gallon of premium every 19 miles. That sounds bad, but it's actually 1 mpg better than our result with a Defender 110X with the same powertrain. We should note the 110X was equipped with the Explorer package that includes a roof rack, snorkel, and side-mounted gear carrier.
HIGHS: Hauls the whole crew, sophisticated on-road demeanor, ready to cross Namibia.
We didn't have an opportunity to drive the Defender 130 in its natural environment—climbing the mountains of Nepal, say, or traversing the jungles of Borneo. Those who do travel in extremis will want to be mindful of their extra-long steed's commensurately shallower departure angle—28.5 degrees versus 40.0 degrees for the 110—lest the larger Rover drag its bodacious booty on a rock. Otherwise, though, the 130 should be as capable as its siblings off-road. That is to say, very, as we discovered piloting a Defender 110 through the muck on Michigan's Drummond Island. The standard all-wheel-drive system includes a two-speed transfer case, and the center differential is lockable. A locking rear differential is available as part of the $1500 Off-Road package. Ground clearance is 11.4 inches, and like its siblings the 130 can ford 35.4 inches of water.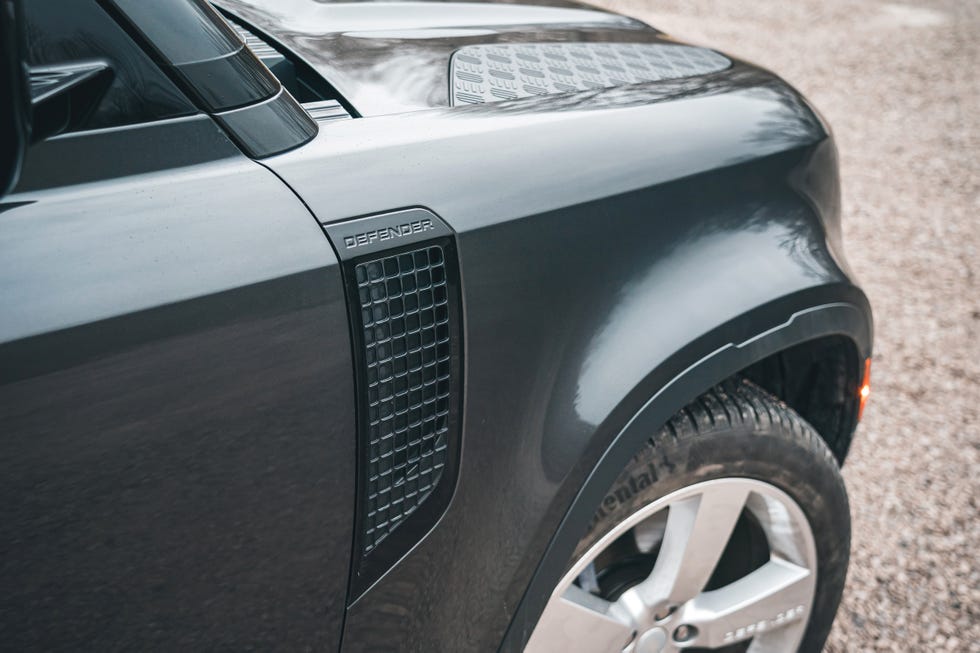 Marc Urbano|Car and Driver
The Defender 130 gets air springs, along with Land Rover's Adaptive Dynamics, as standard. The sophisticated suspension keeps the ride from getting bouncy, and it effectively isolates passengers from broken pavement. The steering is pleasantly weighted and precise for such a serious off-roader, but when cornering, the Defender 130 feels every inch of its size and will have you slowing considerably for curves. At the track, the 130 recorded a modest 0.71 g of lateral grip.
The Defender's brake-by-wire system, which in the 2020 model we found difficult to modulate, brings no complaints this time around. The setup also proves highly effective in panic stops, hauling the Land Rover down from 70 mph in just 167 feet.
LOWS: An ungainly profile, cargo space disappears with eight passengers, a powerful thirst for unleaded.
None of the above is a great deviation from other Defender models. The big change here is the interior package: The 130 clearly was designed to accommodate three rows of seating. Its back bench has sufficient headroom and an additional 11.2 inches legroom for teens or even average-size adults, although foot room is tight. Split 40/20/40 or optionally 60/40, the seat has belts for three, which seems optimistic unless they're all waifish models. Land Rover includes USB-C ports and even optional seat heaters back there, plus a supplemental sunroof, so it doesn't feel too much like steerage. One other change from lesser Defenders is that the 130 doesn't offer the unusual three-person front bench seat (which would have pushed total capacity to nine), nor can second-row captain's chairs be had.
Even with the extra-long body, with all seats deployed, passengers won't be able to pack much more than a toothbrush and a change of underwear. Behind the rearmost seat there's space for just three carry-on bags. In max-cargo mode, there's 81 cubic feet of cargo space behind the front seats, which is only two cubic feet more than in the three-row Defender 110. That's about as much as you'd find in a Nissan Pathfinder but less than in some other mid-sizers, such as the Hyundai Palisade, Chevrolet Traverse, or Volkswagen Atlas, and with the seats folded, the Land Rover's load floor isn't flat.
As in its less lengthy stablemates, the Defender interior is ruggedly practical, featuring grab handles, durable-looking finishes, and numerous storage cubbies. Yet it manages to avoid seeming basic thanks to extensive padded surfaces. It's distinctly different from other upscale SUVs.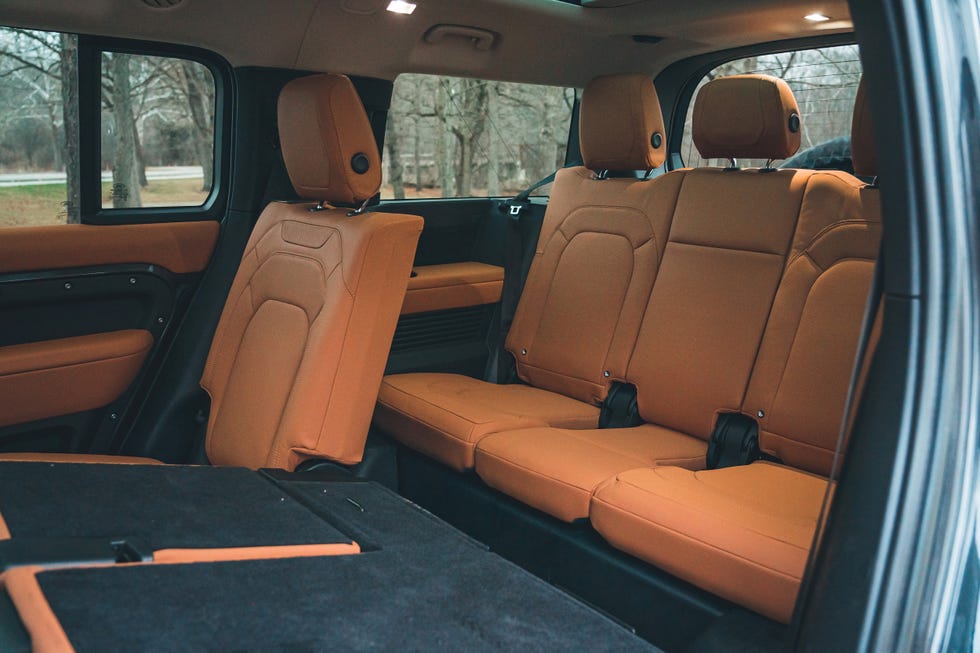 Marc Urbano|Car and Driver
Distinctly different describes the Defender overall, and the pricing is certainly upscale. The 130 skips the steel-wheels stripper trim level and starts instead with the S, for $69,475, which is a premium of $9700 over the 110 S. From there, it climbs through SE, X-Dynamic SE, and First Edition trim levels to top out with the X, which retails for $101,375 before options. Beyond the extra spend, though, there aren't many compromises to be made here. With the 130, Land Rover successfully stretches the Defender in size and capability.
Specifications
Specifications
2023 Land Rover Defender 130 First Edition
Vehicle Type: front-engine, 4-wheel-drive, 8-passenger, 4-door wagon
PRICE

Base/As Tested: $86,175/$92,075
Options: 22-inch Gloss Sparkle Silver wheels, $2000; Towing Pack 2 (tow hitch receiver, advanced tow assist, configurable terrain response), $1850; Carpathian Grey paint, $1050; Cold Climate pack (heated windshield, washer jets, and steering wheel, headlight washers), $500; 60/40-split, heated third-row seat, $300; full-size spare, $200
ENGINE

supercharged, turbocharged, and intercooled DOHC 24-valve inline-6, aluminum block and head, direct fuel injection
Displacement: 183 in3, 2996 cm3
Power: 395 hp @ 6500 rpm
Torque: 406 lb-ft @ 2000 rpm
TRANSMISSION

8-speed automatic
CHASSIS

Suspension, F/R: multilink/multilink
Brakes, F/R: 14.3-in vented disc/13.8-in vented disc
Tires: Continental CrossContact LX
HL275/45R-22 115W M+S LR
DIMENSIONS

Wheelbase: 119.0 in
Length: 210.9 in
Width: 79.1 in
Height: 77.6 in
Cargo Volume, Behind F/M/R: 81/44/14 ft3
Curb Weight: 5931 lb
C/D TEST RESULTS

60 mph: 6.2 sec
1/4-Mile: 14.6 sec @ 97 mph
100 mph: 15.7 sec
130 mph: 33.6 sec
Results above omit 1-ft rollout of 0.4 sec.
Rolling Start, 5–60 mph: 6.9 sec
Top Gear, 30–50 mph: 4.0 sec
Top Gear, 50–70 mph: 4.6 sec
Top Speed (gov ltd): 131 mph
Braking, 70–0 mph: 167 ft
Roadholding, 300-ft Skidpad: 0.71 g
C/D FUEL ECONOMY

75-mph Highway Driving: 19 mpg
75-mph Highway Range: 370 mi
EPA FUEL ECONOMY

Combined/City/Highway: 19/17/21 mpg