Hearing the Jeep Grand Cherokee 4xe described as the "most fuel-efficient Jeep ever" gives us the warm fuzzies. It feels like a win for the world and makes us want to parade through an aisle at Whole Foods, high-fiving every farm-to-fork enthusiast until our palms turn red. But while the 4xe's EPA-estimated 56 MPGe and 26 miles of electric-only range are good for a Grand Cherokee, the plug-in-hybrid option is an expensive one.
That's not to downplay the effort by Jeep to reduce its wonderfully luxurious SUV's usage of gasoline. The Grand Cherokee, which was redesigned last year, is an absolute honey on the road. With a firm brake pedal, linear steering, and a smooth ride, the Grand Cherokee moves with confidence. Its lavish interior and robust four-wheel-drive system make it akin to a Kia Telluride that's graduated from off-road boot camp. Unlike its Wrangler 4xe plug-in-hybrid sibling, the Grand Cherokee 4xe is subdued and quiet at speed. At idle, however, a grumpy 46 decibels from the inline-four echo throughout the cabin.
Michael Simari|Car and Driver
A 270-hp turbo 2.0-liter and two electric motors bring the total output to 375 horsepower and 470 pound-feet of torque, a combination potent enough to make passengers ask, "This is a four-cylinder?" (which, really, is the best compliment a four-cylinder can hope for). We noticed some hesitation when accelerating hard from low speed as the gas engine and electric motor bickered over whose turn it was.
More on the new Grand Cherokee
In the Wrangler, we noted this powertrain's rocky transitions between gas and electric propulsion, although they were somewhat lost amid the Wrangler's general cacophony. In the vastly more polished Grand Cherokee, the powertrain's hesitation and its abrupt transitions stand out.
Eventually, the powertrain suffered a more serious fault, and the hybrid system went silent. As a result, we were unable to record an as-tested fuel economy, nor can we provide you with the 4xe's 75-mph highway fuel-economy results.
We were able to perform instrumented testing before the hybrid-system failure and found that the 4xe is the quickest version of the new Grand Cherokee. It springs to 60 mph in 5.3 seconds and hits 100 mph in 13.9 seconds, right as it reaches a quarter-mile. That's 0.3 second quicker to 60 mph and 1.3 seconds sooner to 100 than the discontinued V-8 version. When it comes to lugging, the 4xe's 6000-pound maximum towing capacity is 200 pounds short of the V-6 and 1200 less than the dead V-8 model.
The Grand Cherokee 4xe starts at $61,660, which is $16,830 more than the base four-wheel-drive V-6 Laredo. The 4xe, though, skips the Laredo trim and is available only in Limited, Trailhawk, Overland, Summit, and Summit Reserve grades. Comparing like trims, the 4xe's upcharge over the V-6 variants with four-wheel drive ranges from $8685 to $10,010—although that can be at least partially offset by the PHEV's $7500 federal tax credit.
Our Overland test rig rumbled in with a $77,525 price tag. The two largest contributions to its bill were optional packages. A Luxury Tech Group IV ($2155) included nappa leather seats with a massaging front row, wireless device charging, and window shades for the back seats. An Advanced Protech Group III ($2235) added head-up display, night vision, and additional driver-assistance features.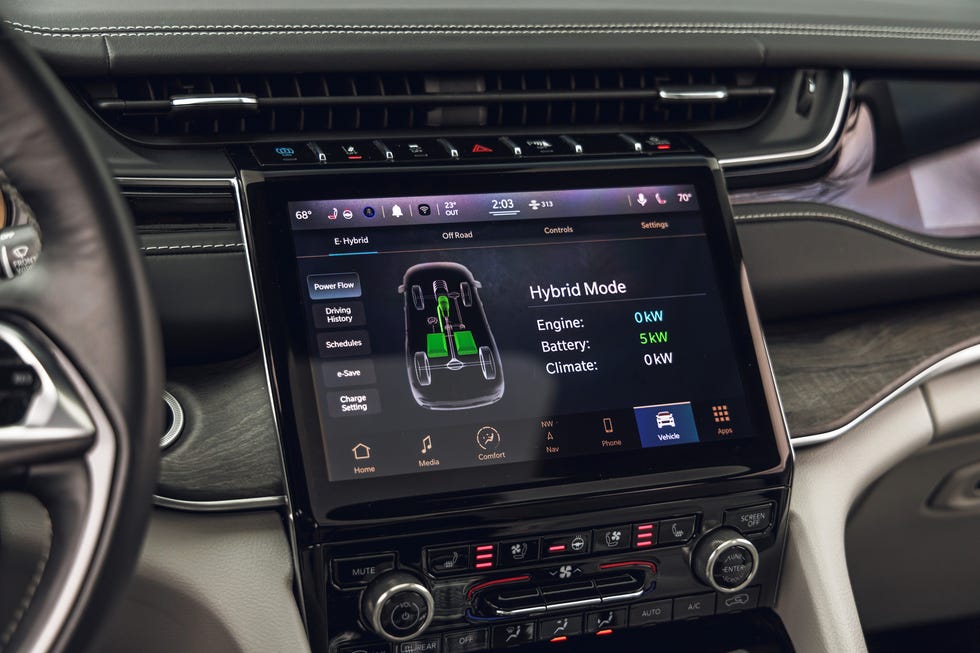 Michael Simari|Car and Driver
This higher-trim model also had the available 10.3-inch front passenger interactive display screen. Taking the opportunity to nerd out, we connected Valve's Steam Deck handheld gaming PC via an HDMI cable while waiting for a takeout order. Although playing the video game SnowRunner in a snowy parking lot sounds ironic and fun, we found the screen to be incredibly dim, even at night with the brightness fully cranked.
Owners with short commutes may be able to avoid gas stations for months, bouncing between the workplace and home, where a typical 240-volt charging connection to the 4xe's 7.2-kW onboard charger can juice up the roughly 14.0-kWh battery in about 2.5 hours. For folks plugging into a standard wall socket, the charge could take eight to 15 hours, depending on the home's outlet. However, footing the bill for the pricey Grand Cherokee 4xe just to avoid gas stations seems like an overpriced convenience.
Arrow pointing downArrow pointing down
Specifications
Specifications
2023 Jeep Grand Cherokee 4xe
Vehicle Type: front-engine, front-motor, 4-wheel-drive, 5-passenger, 4-door wagon
PRICE

Base/As Tested: $61,660/$77,525
Options: Overland trim (air springs, front tow hooks, hands-free liftgate, LED headlights, backlit door handles, heated and power folding exterior mirrors, 20-inch wheels, automatic wipers, ambient interior lighting, auto dimming rearview mirror power tilt/telescoping steering column, power-folding second row rear seats, McIntosh stereo, front-parking assist), $8015; Advanced Protech Group III (head-up display, night vision, surround-view camera, off-road camera), $2235; Luxury Tech Group IV (nappa leather seats, digital rearview mirror display, wireless device charging, massaging front seats, four-zone climate control), $2155; front passenger interactive display, $1095; Off-Road Group, (Goodyear All-Terrain tires, electronically controlled limited slip rear differential, underbody skid plates), $1095; black-painted roof, $775; Velvet Red Pearlcoat paint, $495
POWERTRAIN

turbocharged and intercooled DOHC 16-valve 2.0-liter inline-4, 270 hp, 295 lb-ft + 2 AC motors, 44 and 134 hp, 39 and 195 lb-ft (combined output: 375 hp, 470 lb-ft; 14.0-kWh lithium-ion battery pack (C/D est); 7.2-kW onboard charger)
Transmission: 8-speed automatic
CHASSIS

Suspension, F/R: multilink/multilink
Brakes, F/R: 13.9-in vented disc/13.8-in vented disc
Tires: Goodyear Wrangler All Terrain Adventure
265/60R-18 110T M+S
DIMENSIONS

Wheelbase: 116.7 in
Length: 193.5 in
Width: 77.5 in
Height: 70.9 in
Passenger Volume, F/R: 56/51 ft3
Cargo Volume, F/R: 71/38 ft3
Curb Weight: 5664 lb
C/D TEST RESULTS

60 mph: 5.3 sec
1/4-Mile: 13.9 sec @ 100 mph
Results above omit 1-ft rollout of 0.3 sec.
Rolling Start, 5–60 mph: 6.1 sec
Top Gear, 30–50 mph: 3.4 sec
Top Gear, 50–70 mph: 4.3 sec
Top Speed (gov ltd): 117 mph
Braking, 70–0 mph: 189 ft
Roadholding, 300-ft Skidpad: 0.79 g
EPA FUEL ECONOMY

Combined/City/Highway: 23/23/24 mpg
Combined Gasoline + Electricity: 56 MPGe
EV Range: 26 mi
C/D Testing Explained