The 2023 Dodge Challenger SRT Demon 170 is a 1025-hp street-legal drag-strip special that signals the end of the brand's V-8 muscle cars.
Its four-digit horsepower figure requires E85 gasoline, and with that Dodge claims a quarter-mile time of 8.91 seconds at 151 mph on a prepared surface.
The Demon 170 will cost $100,361 when production starts this July, but only 2500 to 3000 U.S. copies are planned through December 31. It's curtains on V-8 Hellcats after that.
Dodge doesn't believe in the words of Ricky Bobby's daddy: "If you ain't first, you're last."
The storied muscle-car maker has chased taillights throughout its 100-plus-year history. Dodge introduced the original 1970 Challenger well after the 1964.5 Ford Mustang and 1967 Chevy Camaro got the pony-car party started. Compared with those two, the Challenger's production life was cut short. The first generation only lasted until 1974. The second existed from 1978 to 1983, but it was a rebadged Mitsubishi Galant that Mopar purists prefer to forget.
The Challenger's third go-around came in 2008, when it was reinvented with retro styling and a contemporary Hemi V-8. While it initially kept pace with similarly themed Camaros and Mustangs of the day, Dodge fell behind as Chevy and Ford kept investing in their respective machines, making them more modern and better at racing around a track.
Dodge
With the big-bodied Challenger in danger of being resigned to last place, Dodge did an about-face and embraced a different performance philosophy. The brand focused on its rich heritage, doubling down on old-school priorities such as huge horsepower numbers and quick quarter-mile times.
A History of Hellraisers
Dodge's diabolical plan began with the 2015 Challenger SRT Hellcat. Packing a headline-grabbing 707-hp supercharged 6.2-liter V-8, it instantly hijacked the power crown from its mightiest crosstown rivals: the 580-hp Camaro ZL1 and the 662-hp Mustang Shelby GT500.
In our hands, the blown Challenger hit 60 mph in 3.6 seconds and raced 1320 feet in 11.6 ticks at 126 mph. Starting at roughly $60,000, its hypercar-rivaling horsepower was a relative bargain. Its arrival also coincided with a thorough refresh for all Challengers that included cosmetic tweaks, updated powertrains, and an improved interior. Most notably, the Hellcat set the stage for even crazier SRT variants.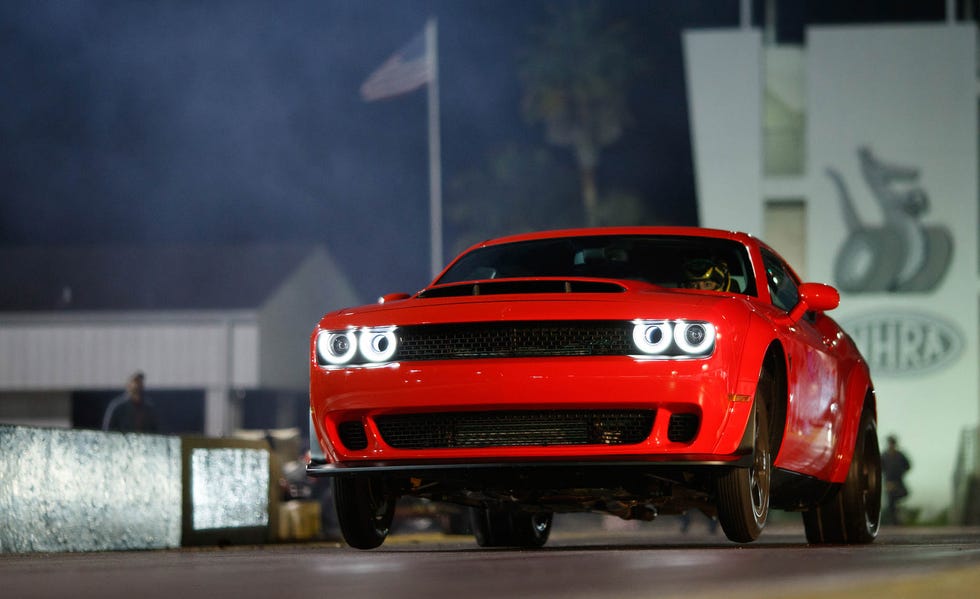 The 2018 Demon came next. Limited to a one-year production run of 3300 copies, it was purpose-built for drag racing. It could also be driven on the street and included a factory warranty—all for basically $86K. Not only did its enhanced Hellcat V-8 make 840 hp when burning 100-octane race fuel, but the thing could pop a friggin' wheelie. Dodge claimed a quarter-mile time of 9.65 seconds at 140 mph on a perfectly prepped surface. This led to an NHRA ban that Dodge eagerly publicized.
The Hellcat Redeye arrived for 2019, offering Charger and Challenger variants. While the engine inherited parts from the Demon, its race-fuel intolerance and reduced airflow capped output at 797 horsepower. The Challenger version we tested hit 60 mph in 3.6 seconds and ran the quarter-mile in 11.8 ticks at 125 mph. However, both metrics mirrored non-Redeyes that cost $11,000 less—proof that tires can only do so much.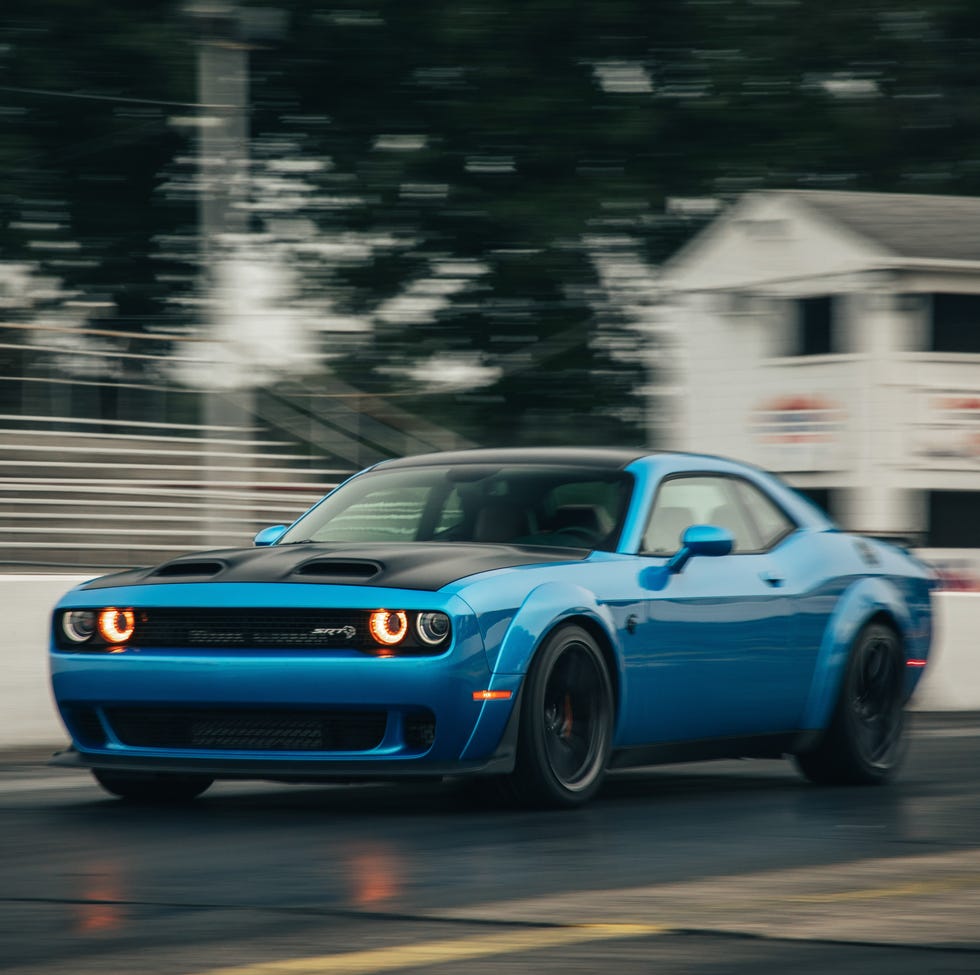 2019 Hellcat Redeye.
Car and Driver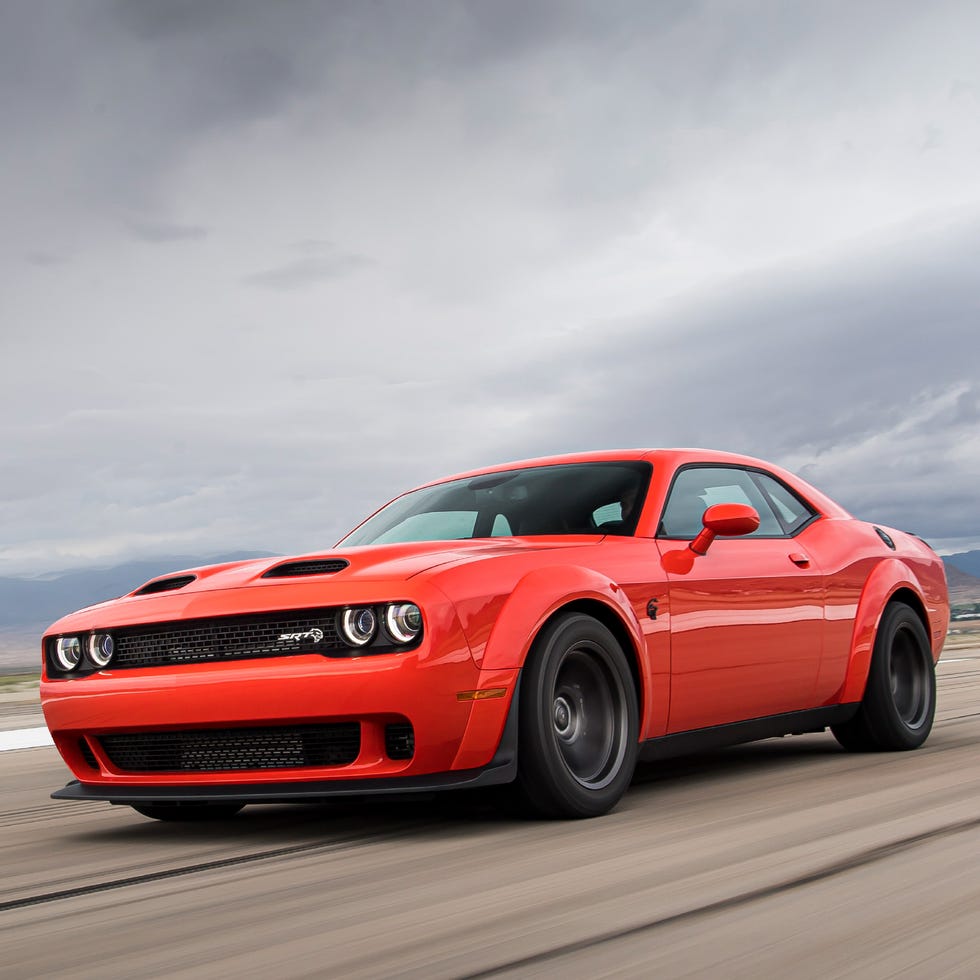 In 2020, Dodge introduced the 807-hp Super Stock, essentially the Demon reincarnated (minus the transmission brake and race-fuel tune). It featured four 315-section-width Nitto NTO5R drag radials and a suspension set up for rear load transfer. The SS stickered for $82,790, with Dodge claiming a quarter-mile time of 10.5 seconds at 131 mph—again, on a prepped surface.
Fast forward to 2023. It's the year Dodge fanatics have been dreading, as it marks the end of the brand's era of excess. Sadly, the Hellcat V-8 will be laid to rest after nearly a decade of duty in many memorable Chargers and Challengers. Both models also reach the end of the production line after this year to make way for electric muscle cars.
During the death march, Dodge has been saying goodbye to its beloved beasts with a seven-part "Last Call" series of special editions that began last August. Now the seventh and final car is revealed, and it's the craziest street-legal creation ever to come out of the SRT lab. Not only is it outrageous, but it's also a metaphorical middle finger to critics who've called Dodge's Hellcats one-dimensional.
1-0-2-5 Horsepower
For the brand that rewrote the book on muscle-car horsepower, it would've been a disappointment if the pinnacle of the Hellcat V-8 didn't crack four digits. Thankfully, when it comes to power figures, Dodge isn't in the business of disappointing. That's also why for the grand finale it resurrected the Demon moniker and built the ultimate streetable dragster.
Enter the 2023 Challenger SRT Demon 170. It summons an otherworldly 1025 horsepower and 945 pound-feet of torque from its supercharged 6.2-liter V-8. Unlocking the new Demon's full fury requires E85 gasoline, and that 170-proof ethanol fuel mixture inspires its name. Even when burning 91 octane, the new engine makes 900 horsepower and 810 pound-feet of torque.
As with its predecessor, the new Demon is a numbers car. It's also a car that isn't afraid to be offensive. An inscription at the entrance of its enormous hood scoop reads Alcohol Injected. If that doesn't make you bristle, the 170's rageful exhaust sound should.
With E85 in the tank and on a fully prepped surface under perfect conditions, Dodge claims the Demon 170 clocked a quarter-mile run of 8.91 seconds at 151 mph and hit 60 mph in just 1.66 seconds. Of course, it won't be that quick on the street.
Obviously, the 170 had to one-up the old Demon, so naturally the new one can still do a crowd-pleasing wheelie—as seen in numerous press photos and video clips Dodge has released. The 170 can also be outfitted with a parachute through Direct Connection, the place for the brand's factory-backed performance parts. What a time to be alive.
All about the Hardware
Several weeks ago, Dodge CEO Tim Kuniskis told a group of auto journalists that while developing the Demon 170, they blew up several engines. Not only did this delay the reveal date, but Kuniskis said it led them to invest even more money than expected into the project. His comments give credence to the assertion that the team did a lot more than simply modify the previous Demon V-8.
Sure, the two share an iron block with the same 376-cubic-inch displacement, but the 170's mill has new internals. The only significant engine part that carries over is the camshaft. The steroidal V-8 is stronger from the crank to the connecting rods to the main and rod bearings. Steel studs now help clamp the cylinder heads, and the cylinders themselves can handle considerably higher pressure (up to 2500 psi on E85).
The new Demon engine also sucks air through a bigger 105 mm throttle body. At up to 164 gallons per hour, Dodge says the new injectors can flow more fuel than a typical shower head can dispense water. A modified version of the supercharger from Dodge's Hellephant crate engine is mounted on top. That larger 3.0-liter unit generates a whopping 21.3 psi of boost pressure, significantly more than the 14.5 psi made by the old Demon's 2.7-liter supercharger.
To handle the Demon 170's monumental power, Dodge fortified the driveline, making the driveshaft 30 percent stronger and the rear axle housing 53 percent stronger. The differential is also stuffed with larger ring and pinion gears. The transmission remains an eight-speed automatic, but it now pairs with an improved transmission brake. For those who forgot, the innovative drag-race feature made its production-car debut on the original Demon.
Dodge says the new TransBrake 2.0 enables more configurable launch settings, including the ability to manipulate the torque curve to match surface conditions. It allows more torque at the rear wheels for harder launches too. Earth-shattering take-offs should further improve thanks to a retuned suspension said to be 50 percent firmer in the rear to reduce front-end lift. Stopping is handled by the same brake setup as the old Demon.
Of course, a proper drag car needs proper drag radials. For that, Dodge turned to Mickey Thompson. The tire maker supplies a set of ET Street R rubber, size 245/55R-18 front and 315/50R-17 rear, which are said to provide an advantage over the previous Nittos. And since Dodge no longer sells a separate Demon crate with the equipment necessary for the quickest quarter-mile trips, the 170 is ready to rip down the strip right out of the box.
A $100K Grand Finale
The new Demon still comes with options. The priciest upgrade is the available two-piece wheels made of aluminum and carbon fiber. They have the same design as the stock set but save a combined 25 pounds. They also cost $11,495. All 170s shed 16 pounds after Dodge ditched the old Demon's front fender flares. Overall, the two weigh about the same, with the new car claimed to be 4275 pounds.
Dodge will sell a street-tire package for people who want to road-trip their Demon and increase their chances of making it home unscathed. We don't yet know how much the kit will cost, just like we don't know how much it is to add a passenger seat. In the past, it was $1. Otherwise, the 170 comes standard with only a cloth driver's seat. The model we sat in had both front buckets wrapped in available nappa leather. The rest of the interior looked like every other Hellcat Challenger since 2015.
When orders open sometime this spring, the 2023 Demon 170 will start at $100,361 (cue complaints about the dealer markups we're almost certain to see). Production will be limited, but an exact number isn't set. Dodge hopes to build up to 3000 copies for the U.S. and another 300 for Canada between the start of production this July and when the last one rolls off the assembly line on December 31.
New Year's Eve marks the end of the Hellcat V-8 and the dawn of a new age for Dodge. While it hurts to say goodbye, it's been one helluva ride.
More on Demons and Hellcats
This content is imported from poll. You may be able to find the same content in another format, or you may be able to find more information, at their web site.
Senior Editor
Eric Stafford's automobile addiction began before he could walk, and it has fueled his passion to write news, reviews, and more for Car and Driver since 2016. His aspiration growing up was to become a millionaire with a Jay Leno–like car collection. Apparently, getting rich is harder than social-media influencers make it seem, so he avoided financial success entirely to become an automotive journalist and drive new cars for a living. After earning a degree at Central Michigan University and working at a daily newspaper, the years of basically burning money on failed project cars and lemon-flavored jalopies finally paid off when Car and Driver hired him. His garage currently includes a 2010 Acura RDX, a manual '97 Chevy Camaro Z/28, and a '90 Honda CRX Si.