As a fusion of style, luxury, and speed garnished with electrification, the 2023 BMW XM takes some time to digest. Being a plug-in-hybrid SUV, it's already an acquired taste. Yet as the new flagship of the company's M performance division—not to mention its first bespoke model since the M1 supercar of the 1970s—the XM has raised eyebrows since it debuted as a concept in 2021, and not only for its illuminated kidney grilles and dazzling body jewelry. We've been anxious to sample a production version ever since we drove a development prototype last year. Now we have, and we're left wondering if there are a few too many ingredients in its mix.
You'll need to stomach a steep $159,995 base price to dine with the XM. This is a fat-rich two-row SUV, weighing an estimated 6100 pounds, which is several hundred pounds more than the last three-row X7 we tested. Mechanically related to that model and the smaller X5 and X6, the XM shares its 122.2-inch wheelbase with its larger sibling yet is 2.4 inches shorter, a smidge wider, and with a roofline 3.1 inches lower. This is a big vehicle, though it manages its visual heft well, especially if you choose a darker color and forgo the no-cost NightGold Metallic exterior trim.
BMW
Despite its flashy photos and range of BMW Individual paint options, the XM can look attractively subdued if you want. Staggered-sized summer tires wrapped around massive 23-inch wheels, which also can be finished in gold, are standard, with 22-inchers optional. As on other M models, all-season tires are not offered.
Built in Spartanburg, South Carolina, the XM currently comes only one way: with a grand total of 644 horsepower and 590 pound-feet of torque, making it the most powerful BMW SUV available. A more exclusive Label Red version with at least 735 horsepower and a $185,000-plus starting price will be added later this year. For now, the recipe includes 483 horses from a twin-turbo 4.4-liter V-8, plus an additional 194 ponies via an electric motor sandwiched between the engine and the eight-speed automatic transmission. All that kick routes through a variable, rear-biased all-wheel-drive system, and an electronically controlled limited-slip rear differential. With the help of launch control, an estimated 3.8-second 60-mph time should make the XM about as fleet as an X7 M60i, which gets by with a mere 523 horses. As you'd expect of a modern BMW, you can alter the XM's flavoring through an array of settings for the powertrain, suspension, steering effort, and brake-pedal response.
Though many performance SUVs are quicker still, few have the XM's electric-only capability. A large (for a PHEV) lithium-ion battery with 19.2 kWh of usable capacity resides under the floor and should be good for around 30 miles of EV range. EPA figures have yet to be released, but fuel economy will vary from thirsty to thrifty depending on how you drive it. In Electric mode (there's also a default Hybrid setting plus an eControl mode that maintains the battery's charge for later), we could briskly accelerate away from stops and merge onto the highway without stirring the gas engine. Top speed as an EV is a quoted 87 mph, compared to 155 or 168 mph at full chat, depending on whether you spring for the $2500 M Driver's package. Regenerative braking has two settings—very little and some—with most of the energy recuperation neatly blended into the pedal controlling the big six-piston front and single-piston rear brakes. Forget about one-pedal driving, but at least the XM's V-8 isn't necessary for short trips around town. The 7.4-kW onboard charger can replenish the battery from zero to 100 percent in about three hours via a 240-volt outlet.
Driven like an M car on twisty mountain roads, the XM adheres to family tradition. We wish more new BMWs had such smooth, progressive steering, with welcome feedback and a gentle buildup of effort in corners. While the XM's sheer mass keeps it from feeling overtly racy, adaptive dampers, 48-volt active anti-roll bars, and rear-axle steering help keep it flat and poised around bends. Overall power delivery is strong in Sport mode, with the immediate assistance of the electric motor lending the XM extra thrust out of tight turns while helping to fill in the torque interruptions between the transmission's shifts. Those hoping for a deep, V-8 rumble may be disappointed, though, as its active exhaust emits a raspy growl more befitting a V-6 (additional V-8 sound effects overlaid with an EV-like whir are piped through the stereo speakers).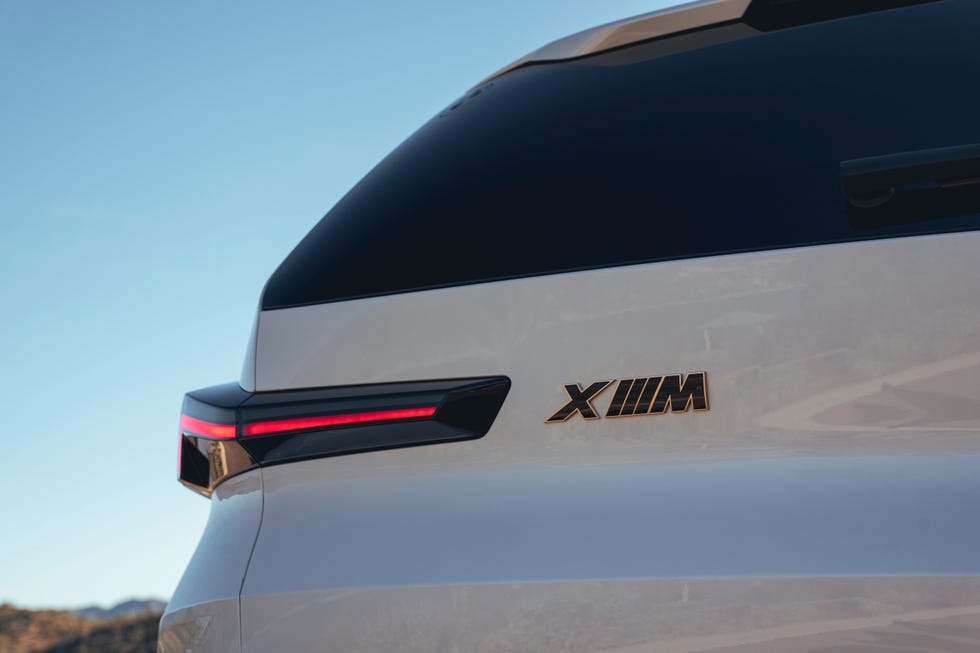 BMW
However, the decision to go with conventional coil springs rather than more compliant air springs—a call that favors chassis precision over comfort—is problematic for a vehicle that also features a spacious back seat that BMW refers to as an M Lounge. Though far from harsh, the XM's ride is busy over small, high-frequency bumps, even in Comfort mode on the smooth Arizona pavement of our drive route. Sprawled out on the cushy rear bench (individual captain's chairs are not available) with its throw pillows and expansive 40.3 inches of legroom, we could feel a jitteriness filtering up through the chassis, spoiling the ambiance. Similarly, the flat rear seat's lack of lateral support means you'll need to brace yourself if your driver decides to have fun behind the wheel.
That's not to say the XM's beautifully finished cabin doesn't ooze wealth. There are artful forms, soft leather, and available contrasting color schemes that tastefully flow from the seats to the door panels and up to the geometrically sculpted headliner ringed by ambient lighting. Luxury amenities surround the cosseting front seats, and every driver-assist feature in BMW's arsenal is present, as is the company's curved dash display for the latest iDrive 8 infotainment system with tandem 12.3- and 14.9-inch screens under a single pane of glass. Open the hatch (note the BMW roundels etched into the rear window), and there's a decent 19 cubic feet of cargo space behind the rear seats.
Yet, the lack of attention to detail in the second row highlights the XM's compromises. While heaters for the outboard rear seats and armrests are standard, there's no seat adjustability, massage function, side-window privacy shades, or dedicated entertainment system to be had. The faraway climate controls in the back of the center console appear borrowed from a mass-market X5. And unlike virtually every other big-dollar luxury SUV, you can't customize the XM's interior beyond the four standard color-and-trim combos.
We imagine the XM's intended clientele—80 percent of which BMW expects to find in the U.S. and China, with many being new customers to the brand—won't feel too miffed about it not being as quick and sybaritic as it could be. The XM's many indulgences, including its respectable EV capability, can be had for thousands less than, say, a Bentley Bentayga or a Porsche Cayenne Turbo S E-Hybrid. But as the pinnacle of the M brand, the XM is less a delicacy and more a mash of features that leaves a confusing aftertaste. We'd wait for the fancier Label Red model before making reservations.
Arrow pointing downArrow pointing down
Specifications
Specifications
2023 BMW XM
Vehicle Type: front-engine, front-motor, all-wheel-drive, 5-passenger, 4-door wagon
PRICE

Base: $159,995
POWERTRAIN

twin-turbocharged and intercooled DOHC 32-valve 4.4-liter V-8, 483 hp, 479 lb-ft + AC motor, 194 hp, 207 lb-ft (combined output: 644 hp, 590 lb-ft; 19.2-kWh lithium-ion battery pack; 7.4-kW onboard charger)
Transmission: 8-speed automatic
DIMENSIONS

Wheelbase: 122.2 in
Length: 201.2 in
Width: 78.9 in
Height: 69.1 in
Passenger Volume, F/R: 57/54 ft3
Cargo Volume, Behind F/R: 64/19 ft3
Curb Weight (C/D est): 6100 lb
PERFORMANCE (C/D EST)

60 mph: 3.8 sec
100 mph: 9.2 sec
1/4-Mile: 12.2 sec
Top Speed: 155–168 mph
EPA FUEL ECONOMY (C/D EST)

Combined/City/Highway: 19/18/20 mpg
Combined Gasoline + Electricity: 45 MPGe
EV Range: 30 mi
Technical Editor
Mike Sutton is an editor, writer, test driver, and general car nerd who has contributed to Car and Driver's reverent and irreverent passion for the automobile since 2008. A native Michigander from suburban Detroit, he enjoys the outdoors and complaining about the weather, has an affection for off-road vehicles, and believes in federal protection for naturally aspirated engines.