BMW showrooms are bursting with big, expensive SUVs. It used to be that the X7—with six-cylinder and V-8 variants—was the undisputed king of the hill, but now there's also the all-electric iX M60 and the M division's own XM. With huge horsepower and torque numbers, the latter two threaten to overshadow the X7, particularly the six-cylinder base version. But while the X7 xDrive40i comes up short on bragging rights in this corner of the showroom, it still stands tall in the wider world.
The X7's inline-six is a good one, and for 2023, the twin-turbocharged 3.0-liter tacks on another 40 horsepower, bringing the total to 375. Torque is boosted by 52 lb-ft to 383. A 48-volt hybrid-assist system chips in as well, pushing net torque to 398 lb-ft, with the system's battery replenished via brake-energy recuperation.
The 3.0-liter six is newly mated to BMW's Steptronic Sport automatic transmission. It has the same eight forward speeds as before but adds launch control and a Sprint function. The latter is accessed by pulling the left shift paddle, which makes the gearbox downshift to the lowest possible gear, activates the hybrid system's electric boost, and switches the powertrain and chassis into their most aggressive drive modes.
In typical driving, this engine is quiet and well mannered. But rev it past 4000 rpm or so, and it emits a sporty growl reminding you that, oh yeah, BMW was once known for sporty coupes and sedans.
HIGHS: Plenty quick, turns and stops with surprising athleticism, ears-stuffed-with-cotton quiet.
Actually, this X7's acceleration also calls to mind BMW's sporty coupes and sedans. The 4.6-second 60-mph time betters that of the 430i xDrive coupe (5.2 seconds) and the last 540i we tested (4.7 seconds). The SUV's 13.4-second quarter-mile sprint at 102 mph puts it within spitting distance of that same 540i. Against rival SUVs, the X7 40i is quicker than the six-cylinder Mercedes GLS450 and the Audi Q7 with the turbo 3.0-liter V-6. Even so, the xDrive40i still trails a respectful distance behind its V-8 sibling the X7 M60i, which blazes to 60 mph in 3.8 seconds and rips through the quarter-mile in 12.3 seconds at 111 mph.
Giving up that last measure of quickness pays dividends for the xDrive40i at the pump. The six-cylinder X7 ratcheted up its EPA numbers by a couple of notches this year, and its 21-mpg city and 25-mpg highway estimates beat the M60i's numbers by 5 and 4 mpg, respectively. Over 770 miles of driving, we averaged 21 mpg, which compares fairly well to the 40i's 22-mpg EPA combined rating.
If the X7 displays athleticism when you give it the stick, then it does so even more when you bend it into a corner. Our 40i had the optional Dynamic Handling package, and while we weren't enamored with its Integral Active Steering, the active anti-roll bars combine with the standard adaptive air springs to help keep this tall and heavy SUV composed through curves, much more so than one might expect given its size. Abetted by the optional four-wheel steering, the X7 xDrive 40i also exhibits excellent lateral stability around the skidpad, where it hangs on with 0.92 g of grip—that absolutely stomps the Range Rover Sport (0.81 g), not to mention the racier X7 M60i (0.85 g). Defying its 5545-pound curb weight, this SUV also stops from 70 mph in just 149 feet, outbraking both the M60i (155 feet) and the Audi RS Q8 (158 feet); it also stops shorter than the Lamborghini Urus Performante (152 feet).
But maybe you want to sit back and just cruise. Out on the highway, we were impressed with the cruise control's highly capable assisted-driving mode, which smoothly maintains lane position. More startlingly, it executes automated lane changes (at the driver's direction) that are confident and brisk rather than tentative and drawn out, as in most other systems with that capability.
Marc Urbano|Car and Driver
Ride quality is not great, though, particularly if one strays from Comfort mode. Despite the suspension's road-preview capability, there's significant impact harshness over bumps, and we noticed some side-to-side jitter on rough pavement surfaces. That's perhaps to be expected given the massive 23-inch wheels our test car was wearing; they're a new option this year, but the 21s or 22s would be a better choice. The X7 sure is quiet, though. We measured a library-esque 62 decibels at 70 mph, which makes even battery-electric SUVs such as the Rivian R1S (68 decibels) and BMW's own iX M60 (65 decibels) seem raucous by comparison.
Your seat for this aural bliss is a comfy perch with softer padding than the BMW norm. The X7 doesn't go full glam like the iX, though our example did have the glitzy crystal switches (part of the $3950 Executive package). The X7's ambient lighting is fancier than before, as there's now an illuminated badge and surrounding chevron designs on the right side of the dash, which seems a bit much. A vegan leather-like upholstery, Sensafin, is standard on the 40i, but ours was slathered in the optional extended merino leather ($1950), including on the dashboard ($900).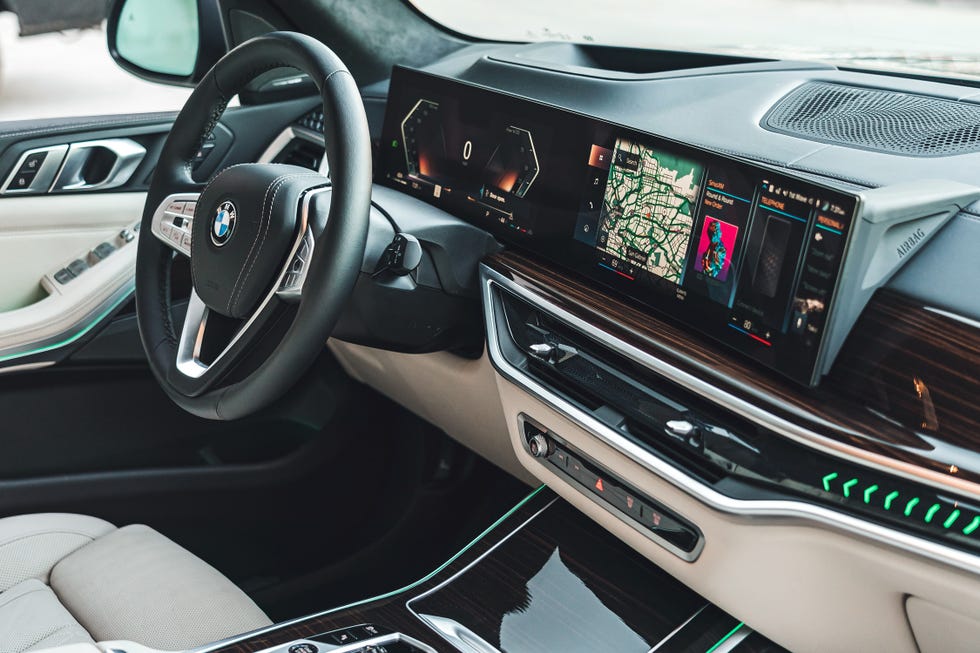 Marc Urbano|Car and Driver
BMW's curved dual-screen display is another new addition to the X7 this year. The central screen measures 14.9 inches, and although it functions as a touchscreen (a swiping motion moves through the function tiles), it also retains a large rotary controller, which makes moving among the screens a snap and is a particular boon for scrolling through satellite radio stations. In a less welcome development, the climate controls have migrated to the touchscreen, which isn't the most convenient spot—one must open the climate-control menu to adjust the fan speed, for instance.
Rear-seat space is generous in the second row and tolerable in the third. Our X7 had full power adjustment of the second-row seat, which meant that moving the seat forward to access the back bench was also a powered operation, one that's much slower than a manual release.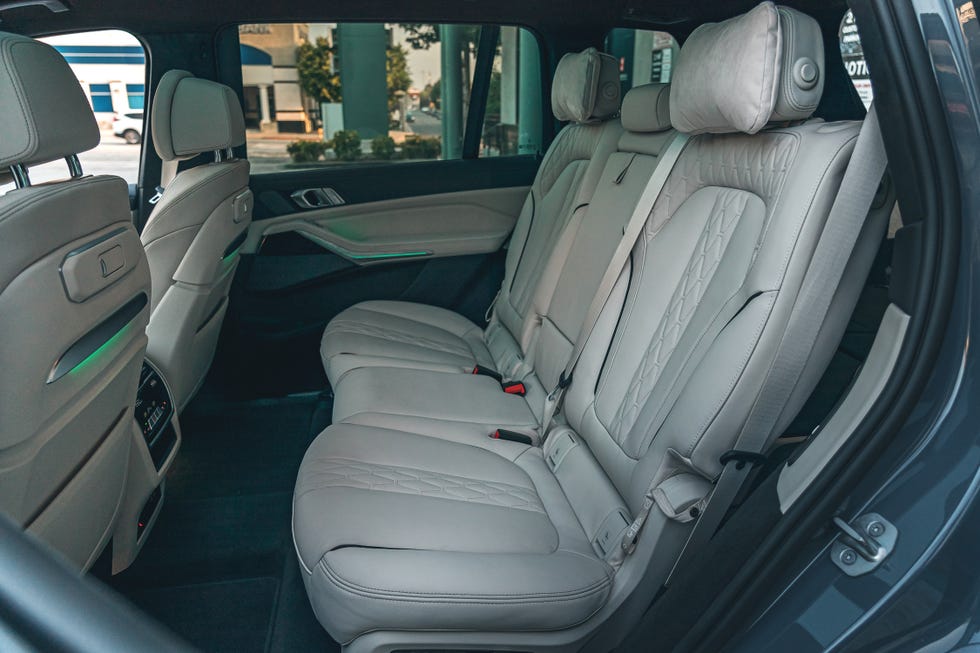 Marc Urbano|Car and Driver
As in the X5, the cargo hold is accessed via an upper liftgate and drop-down lower tailgate, both power operated. Buttons at the rear opening can raise or lower both rows of rear seats, and another on the tailgate can lower the car slightly to ease cargo loading. Unfortunately, there's precious little space for luggage when all seats are in use—just 13 cubic feet.
LOWS: Winces at the sight of potholes, inconvenient climate controls, not much luggage space with all seats in use.
The xDrive40i's starting price of $77,845 is some $25,000 less than the X7 M60i's, although our test vehicle, larded with extras, rang in at $96,745. Clearly, there are no bargains in this corner of the BMW showroom. But the X7 xDrive40i wants for nothing—even next to the ritzier and more powerful luxury SUVs wearing the roundel badge.
Arrow pointing downArrow pointing down
Specifications
Specifications
2023 BMX X7 xDrive40i
Vehicle Type: front-engine, all-wheel-drive, 7-passenger, 4-door wagon
PRICE

Base/As Tested: $78,845/$96,745
Options: Executive package (soft-close doors, heated and cooled cupholders, glass controls, massaging front seats, gesture control, premium sound, panoramic sunroof, power rear-seat window shades), $3950; Dynamic Handling package (active steering, active anti-roll bars), $3300; 23-inch bi-color alloy wheels, $2600; Ivory White merino-leather upholstery, $1950; Driving Assistance Professional package (adaptive cruise control, lane-keeping and evasion assist, traffic-jam assist, automated lane changing, front-cross-traffic alert), $1700; Climate Comfort package (5-zone automatic climate control, ventilated front seats, heated front and outboard rear seats), $1600; Alcantara headliner, $1000; Parking Assistance package (surround-view camera system, parking assistant, drive recorder), $900; leather dashboard, $900
ENGINE

turbocharged and intercooled DOHC 24-valve inline-6, aluminum block and iron head, direct fuel injection
Displacement: 183 in3, 2998 cm3
Power: 375 hp @ 6250 rpm
Torque: 398 lb-ft @ 1850 rpm
TRANSMISSION

8-speed automatic
CHASSIS

Suspension, F/R: multilink/multilink
Brakes, F/R: 15.6-in vented disc/15.7-in vented disc
Tires: Pirelli P Zero PZ4
F: HL275/35R-23 108Y Extra Load ★
R: HL315/30R-23 111Y Extra Load ★
DIMENSIONS

Wheelbase: 122.2 in
Length: 203.6 in
Width: 78.7 in
Height: 72.2 in
Passenger Volume, F/M/R: 58/50/34 ft3
Cargo Volume, behind F/M/R: 90/49/13 ft3
Curb Weight: 5545 lb
C/D TEST RESULTS

60 mph: 4.6 sec
100 mph: 12.7 sec
1/4-Mile: 13.4 sec @ 102 mph
120 mph: 19.6 sec
Results above omit 1-ft rollout of 0.2 sec.
Rolling Start, 5–60 mph: 6.1 sec
Top Gear, 30–50 mph: 3.3 sec
Top Gear, 50–70 mph: 3.7 sec
Top Speed (gov ltd): 128 mph
Braking, 70–0 mph: 149 ft
Braking, 100–0 mph: 300 ft
Roadholding, 300-ft Skidpad: 0.92 g
C/D FUEL ECONOMY

Observed: 21 mpg
EPA FUEL ECONOMY

Combined/City/Highway: 22/21/25 mpg
C/D TESTING EXPLAINED
Deputy Editor, Reviews and Features
Joe Lorio has been obsessed with cars since his Matchbox days, and he got his first subscription to Car and Driver at age 11. Joe started his career at Automobile Magazine under David E. Davis Jr., and his work has also appeared on websites including Amazon Autos, Autoblog, AutoTrader, Hagerty, Hemmings, KBB, and TrueCar.